Buddhists from across the globe visit some of the most sacred Buddhist sites that are located in India as a part of their pilgrimage journey. This 5 days and 4 nights of quick Buddhist tour package promises you a spiritually evoking journey through the most sacred and pious sites that are revered highly by Buddhism followers including Sarnath and Bodhgaya. Cleanse your soul and visit these significant Buddhist centres of worship. The places covered in this package will give you a complete idea of the life and times of Lord Buddha and how he changed his life from a royal prince to a simple saint who gave the world one of the most popular religions in the world.
Varanasi and Bodh Gaya Buddhist Tour Itinerary Details

Tour Duration:
04 Nights / 05 Days
Destination Covered:
Delhi – Varanasi – Sarnath – Bodhgaya
Tour Price:
On Request/- Enquire Now
Day 01: Arrival in Delhi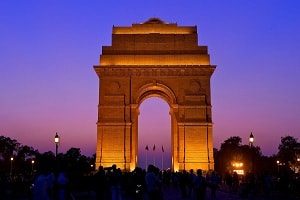 Upon arriving in the capital city of Delhi, you will be guided and transferred to your hotel. Here you will freshen up and relax for a while before heading out for a small city excursion.
You will be made to visit the iconic landmark, India Gate, which is lined with green gardens where you can take your loved ones for picnics. The India gate complex also contains a small water body where people go for paddle boat rides.
On your way back you will also be shown the majestic looking and glorious parliament house along with Rashtrapati Bhawan, which is the residence of the president of India and a huge tourist attraction for its magnificent structures.
Finally you will be headed back towards your hotel where you will be spending your night after having a delicious meal.
Day 02: Delhi – Varanasi (2 Hours Flight Journey)
Early in the morning post breakfast you will make way for a short local excursion of Delhi for half a day. It will start off with a visit to the memorial of Mahatma Gandhi located at Rajghat. As the name suggests, this place is the exact spot where the cremation ceremony of Mahatma Gandhi took place. People visit here to offer their respects to him. Situated close to the bank of River Yamuna, flanked on both sides by green gardens and the continuous burning of the eternal flame, gives this place a calming effect.
After the short excursion of the capital, you will finally be headed towards Varanasi via flight and on your arrival there our tour representative will get you checked in to your allotted hotel for dinner and night stay.
Day 03: Varanasi – Sarnath – Bodhgaya (247 Kms / 6 Hours)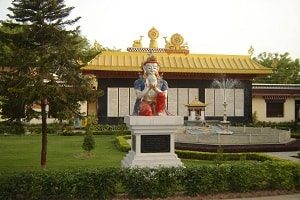 Start your morning on a spiritual note, with a peaceful boat ride on the mighty River Ganga. You will be made to witness a glorious sunrise in its full splendor through this boat ride. After the boat ride, on your way back you will be taken for a stroll through the colourful and vibrant ghats of Varanasi, like Manikarnika ghat, Assi ghat and Tulsi ghat.
After having your breakfast you will be headed out for a complete excursion to one of the major Buddhist pilgrimage destination of Sarnath. This is the exact spot where Lord Buddha gave his very first sermon after achieving enlightenment at the deer park which is also known as Rishipattana. After offering your prayers, you will then be taken to the next location of the holy Dhamekh stupa.
It is said that after Parinirvana, Lord Buddha's mortal remains were cremated and the ashes were divided and buried into eight different mounds. This is a highly religious pilgrimage centre for Buddhists from across the globe.
Your next stop will be the Chaukhandi stupa, which has now evolved into a shrine for Lord Buddha's relic from burial mounds. The unique octagonal shape of the stupa was constructed by Govardhan to commemorate the visit of Humayun. Originally this stupa marks the exact place where Lord Buddha met his disciples from the first time to travel from Bodhgaya to Sarnath.
You will then be taken to the famous archaeological museum of Sarnath which contains the findings retained from the excavation site of Sarnath which includes 6,832 items, sculptures and artifacts.
By the end of the day you will be headed to the holy city of Bodhgaya via road. Once you finally arrive in Bodhgaya you will be checked into your hotel for a comfortable night stay.
Day 04: Bodhgaya (Sightseeing)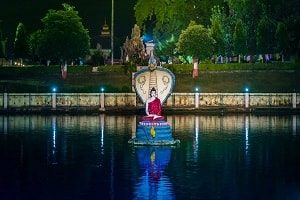 This day will be reserved for you to go on a local sightseeing excursion of the holy city. After having a meal your day will start with a visit to the famous Mahabodhi temple. A UNESCO world heritage site this ancient temple is one of the most religiously significant temple in India for Buddhists. This major pilgrimage site houses the descendant of the famous Bodhi tree under which Lord Buddha had attained enlightenment making it a huge magnet for Buddhist pilgrims.
After offering your prayers to the spiritual lord and post lunch, you will be taken to your next stop at Gaya. Upon reaching Gaya, you will be taken for a local sightseeing tour to the Dungeshwari cave temple which is also known as Mahakala caves.
Enshrined inside the cave is a golden sculpture of Lord Buddha along with a sculpture of Goddess Dungeshwari. This cave temple is constructed as a way of commemorating the time when Lord Buddha was frail and starving and was fed Kheer by a tribal woman named, Sujata. Lord Buddha has spent a large chunk of his time in this cave in intense penance and meditation.
By the end of the day you will be guided back to your hotel in Bodhgaya for staying there overnight.
Day 05: Bodhgaya Departure
On the final day you will be taken back to your preferred place of departure either railway station or airport, from where your journey to your desired location will continue on.