Being one of the oldest religions in the world Buddhism has garnered a huge base of Buddhist individuals who take up the journey that Lord Buddha took to achieve enlightenment. India is home to several Buddhist sites since this is the place where Lord Buddha had attained his enlightenment and created one of the biggest religions in the world. This Buddhist Spiritual Tour Package will take you on a peaceful and thoughtful journey across some of the most highly revered sites for Buddhism in the world. In 9 days and 8 nights you will be made to experience the true wonder that is Buddhism. The powerful divinity is one of its kinds making your soul more enriched.
Buddhist Spiritual Tour Itinerary Details

Tour Duration:
08 Nights / 09 Days
Destination Covered:
Delhi-Lucknow-Shravasti-Lumbini-Kushinagar-Vaishali-Kesaria-Patna-Nalanda-Rajgir-Bodhgaya-Gaya-Varanasi-Sarnath-Delhi
Tour Price:
On Request/- Enquire Now
Day 01: Delhi – Lucknow – Shravasti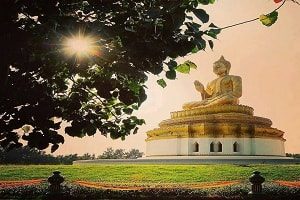 Once you arrive in Delhi out tour representative will guide and assist you for an early morning train to Lucknow. After covering a train journey of 5 hours to Lucknow, you will then be driven to Shravasti. Here you will be checked into your hotel for spending the night along with a complete dinner.
Day 02: Shravasti Local Sightseeing – Lumbini (203 Kms / 5 Hours 30 Mines)
This is the day where your local sightseeing tour of Shravasti, post breakfast, will commence. Starting with, a visit to one of the most visited sites of Sahet Mahet.
The famous Sahet site houses the ancient remains of Buddhist temples, monasteries and stupas, which hold great significance to the Buddhist culture. Thousands of year back, this place was a hub of spirituality and Lord Buddha used to stay here and deliver his sermons to his followers. The remainder of the temples and monasteries include, Jetavana Garden, Kosamba Kuti and Gandha Kuti. Buddhists from all over the world make sure to visit this place and pay their respects.
On the other hand, Mahet, an ancient city which is located on the northern end of Sahet, was a completely fortified city along with being a comfortable home for Buddhist stupas. Currently only the ruins of stupas like Angulimala, Pakki Kuti and Saudara Stupa remain due the excavations that were carried out. However it still attracts Buddhists from far and wide offering them a soulful experience.
Post lunch you will be made to head towards Jetavana Vihara, which is one of the most significant and religiously relevant Buddhist monasteries in India. The reason for its importance is because Lord Buddha gave a majority of his teachings and discourses from this very place, hence, giving it an aura of magnificent spirituality.
You will then be taken towards the famous Ananda Bodhi tree, which is planted in front of the entrance of Jetavana on request of Anasthapitaka, which is symbolic of Lord Buddha when he travelled away from Shravasti. This tree is extremely important since it grew from the sapling of the original Bodhi tree in Bodh Gaya, sitting beneath whose cool shade Lord Buddha had achieved his enlightenment.
With the evening time approaching you will be driven to your next holy destination of Lumbini. On the India – Nepal border you will be checked and granted your entry visa after which you will be headed to your hotel for an overnight stay where you will also be served some dinner.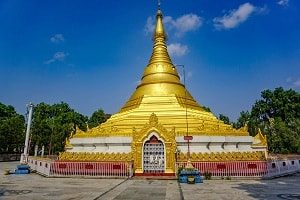 Day 03: Lumbini Local Sightseeing – Kushinagar (143 Kms / 4 Hours 15 Mines)
Post breakfast your local sightseeing day of the birthplace of Lord Buddha, Lumbini will kick start.
Lord Buddha took his first breath in the magnificent garden of Lumbini, which is now a huge pilgrimage site for Buddhists from across the globe. Along with that the Lumbini complex houses a number of UNESCO world heritage site like, Maya Devi temple. This Buddhist temple is built adjacent to the sacred garden as a way of commemorating the birth of his one true spiritual leader. Discovered in 2013 this temple was originally commissioned by the Mauryan emperor Ashoka the great in the 3rd century BCE.
Next in stop will be the eternal peace flame, which is a continuously burning since an indefinite period. Present within the premise of Maya devi temple this flame was ignited with an aim of commemorating the international year of peace, along with promoting peace and harmony among nations and other global communities. The tranquility and quietness of the place is something that you will remember.
Your next stop will be the Lumbini Museum, dedicated to the life and time of Lord Buddha. It has numerous collections of Lord Buddha's artefacts, pictures and sculptures of Lord Buddha from all around the world.
Your final stop for the whole day of sightseeing will be the Royal Thai Monastery. This Thai style monastery stands tall in white gleaming marble which is a meditation centre along with being one of the finest architectural wonder. Immerse yourself in deep divinity and unparalleled peace before heading to your next sacred destination of Kushinagar, the place of death of Lord Buddha.
Once you arrive at Kushinagar you will be directed by our tour representative to the hotel here for night stay and dinner.
Day 04: Kushinagar Local Sightseeing – Vaishali via Kesaria (122 Kms / 2 Hours 30 Mines) – Patna (50 Kms / 1 Hour)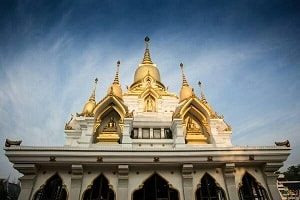 This is the day where you will spend some time in sightseeing of the local holy sites. This sightseeing will begin with a visit to Mahaparinirvana temple, which is the exact spot where Lord Buddha took his last breath after ordaining his disciples and saying the last words to his Sangha. This temple houses a 6.1 metre long statue of Lord Buddha in a lying down position facing towards his right.
Your next stop will be the famous Ramabhar stupa, which is the cremation site of Lord Buddha. One of the most significant pilgrimage spots for Buddhists, the stupa houses some of the important relics, sculptures, photos and statues that are related to Lord Buddha. This structure attracts tourists from far and wide making this historical site a must visit. If you want to look deep into the life and death of Lord Buddha then this place will be the right choice for you to visit.
Later in the afternoon, your journey towards Patna will commence but first you will be stopping at Kesariya to visit the largest stupa in the world followed by a visit to Vaishali.
Standing at a whopping height of 104 feet, this stupa is of world heritage importance and it is said that Lord Buddha has spent a night here just before the day of him attaining enlightenment. As per ancient travelogue this stupa used to tower at a height of 123 feet before some parts of it succumbed to an earthquake.
Vaishali is especially relevant in the context of Buddhism since, after attaining his enlightenment, Lord Buddha had given up his alms begging bowl to the people of Vaishali and continued visiting here to establish the Bhikshuni Sangha.
Finally after having a soulful time in these serene and tranquil sites, your journey towards Patna will continue. Once you arrive in Patna you will be taken to your hotel for dinner which will be followed by a night stay.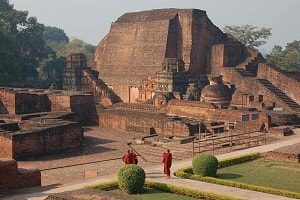 Day 05: Patna – Nalanda (100 Kms / 3 Hours) – Nalanda University – Rajgir (40 Kms / 1 Hour) – Bodhgaya (80 Kms / 2 Hours)
Post breakfast, you will be driven to visit the oldest university and learning centre in the world, Nalanda university. It was built as a large Buddhist monastery where individuals and learners from India as well as abroad came to learn about Buddhism and formalized Vedic traditions. This UNESCO world heritage site was laid its foundations in the 5th century CE. Apart from being a tourist attraction Nalanda is also an important and a crucial part of the Buddhist pilgrimage route. The ruins here offer an insight into the bygone era.
Your next stop will be the huge Xuanzang memorial hall, which was built by the Chinese government in India, with an aim of honouring the world famous Chinese pilgrim traveler, Xuan Zang. He was well known for documenting his travels and he had also studied and taught in the University of Nalanda. It houses Zang's writings, travelogues and other materials.
Later, after the completion of your sightseeing tour, your journey towards Rajgir will begin. This place is known for being an important Buddhist pilgrimage site, because it was Lord Buddha's one of the favorite places where the "atanatiya" conference was held. You will be made to visit the famous World Peace stupa here, that contains statues of the lord going through his 4 stages of life which are – birth, enlightenment, teaching and death.
Next stop on your list will be the Griddhakuta or Vulture Peak, which is the spot where Lord Buddha had halted by to preach and spread the word of his teachings.
Finally your drive to Bodhgaya will commence where, upon arrival, you will be checked into your hotel for a night stay and dinner.
Day 06: Bodhgaya – Gaya (12 Kms / 45 mines)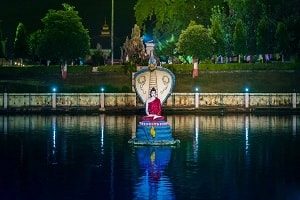 After having your breakfast, you will be made to visit one of the most Buddhist relevant sites in the world, The Mahabodhi Temple and the Bodhi tree.
Literally meaning the "great awakening temple" this Mahabodhi temple is exactly the location where Lord Buddha is said to have achieved his enlightenment after extreme penance and meditation under the Bodhi tree which is also present within the temple's complex. This is a major pilgrimage site for Buddhists seeking some spirituality and peace in their souls. Monks can be seen meditating under the cool shade of the massive and holy Bodhi tree which will definitely calm your mind.
Dungeshwari cave temple is your next stop, which is also known as Mahakala caves, this is the place which is believed to be exact spot where Lord Buddha had intensely meditated for six long years before leaving for Bodhgaya for the final enlightenment. You will be able to pay your respect to the Gold structure of Lord Buddha residing inside the cave which is a way of commemorating his penance time.
Next in your visiting line will be the Sujata Village temple, which is dedicated to the tribal woman who offered a sweet meal of Kheer to Lord Buddha when she saw him lying down, starved and weak. This is the meal which gave him immense power and strength to carry on with his holy journey.
At the end of the day you will be driven back to Bodhgaya where your night stay will be preceded with a complete dinner.
Day 07: Bodhgaya – Varanasi (300 Kms – 6 Hours – 7 Hours)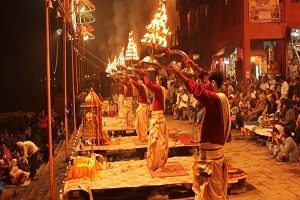 Your day will begin with a breakfast meal followed by a journey to the holy town of Varanasi, where upon your arrival you will be checked in to your hotel smoothly by our tour representative.
Evening time will be reserved for you to visit the splendid and magnificent Ganga aarti at the Dashashwamedh Ghat. Here you will experience one of the most holy and spiritual time filled with rhythmic chantings and a massive aarti along the banks of the mighty River Ganga.
After the finishing of aarti, you will then be taken back to your hotel for overnight stay along with having a scrumptious dinner.
Day 08: Varanasi – Sarnath (15 Kms / 45 Mines)
Your morning time will be occupied in taking a glorious boat ride on the holy River of Ganga. You will then be taken for breakfast, post which, your day will be filled with pure spiritualism in one of the holiest Buddhism town of Sarnath.
Your Sarnath excursion will begin with a visit to the deer park, the same spot from where Lord Buddha gave his very first sermon to his followers and disciples after attaining enlightenment. An important Buddhist pilgrimage site this location sees visitors from far and wide who come here to experience the reverence of the divine Lord Buddha.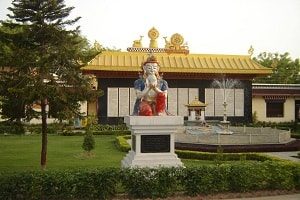 Next in the local sightseeing excursion, will be the Dhamek stupa, which is the exact point form where Lord Buddha delivered his first sermon. The stupa commemorates this important and historical moment in the history of Buddhism.
After this you will be guided to Chaukhandi stupa, which is a shrine of Lord Buddha and houses several relics of Lord Buddha. The shape of this stupa is unorthodox being octagonal in shape. Your final visit will be at the archeological museum, which is home to 6,832 different types of artifacts and sculptures related to the holy site of Sarnath and the spiritual leader, Lord Buddha.
As the Sarnath excursion draws to an end you will be taken back to your hotel, in Varanasi, for dinner and relaxation.
Day 09: Varanasi Departure for Delhi
On the final day of your trip you will be dropped at the railway station or airport for your return journey back to Delhi.